Children & Youth Group Events
Beechnut Springs is the perfect place, being such a short ride, to host your children and youth club events. Children need time away from the high tech world we live in today to immerse themselves into the great outdoors of God's creation and find outdoor adventures that await them at Beechnut Springs.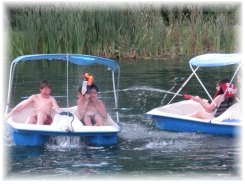 Manning your own water balloon launcher on land for epic water balloon battles where you actually get wet just can't compare to any video game played inside. Take your water game fun from the land to the water as you outmaneuver your opponents in high flying water cannon skirmishes from paddle boats on Creekside pond. There are plenty of "dry" adventures that await your children and youth groups on land also!