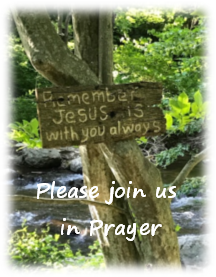 In his letter to Timothy, Paul instructed Timothy to pray for all people asking God to help them. "I urge you, first of all, to pray for all people. Ask God to help them; intercede on their behalf, and give thanks for them. (1 Timothy 2:1)
We ask that you join us in prayer and thanksgiving for the work that God has done, is doing, and will do here at Beechnut Springs, that we might proclaim Christ in all we do.
Pray the scriptures over us and our guests:
● That every guest would "come near to God," and that He would come near to them (James 4:8)
● That God will "send more workers into his fields" for "the harvest is great but the workers are few." (Matthew 9: 37-38)
● That "you will keep on growing in knowledge and understanding", for all of our retreat guests and our staff. (Philippians 1: 9
Sign on Creekside Trail
Pray that God will bless Beechnut Springs ministries:
● That God will move powerfully in the hearts of all who visit and provide them with the Holy Spirit's guidance in their ministry work for Him.
● That our staff and guests will be blessed with wisdom and discernment in every decision we make and that every action we take would be glorifying to God
● That our guests would be protected and safe during their time of fellowship at Beechnut Springs
Thank you for your willingness and thoughtfulness to support Beechnut Springs Ministries through Prayer!